THE BEST GIFTS TO GIVE ARE THE ONES YOU LOVE TO GET
Give the gift of an Ozuki experience.
Simply choose the amount and consider it done.
We will email your loved one, friend, or colleague a virtual gift card with your personalized message to them.
Click here to purchase. Thank you.
Services
Ozuki Salon offers conservative, precise haircuts, as well as more innovative contemporary cuts, two style directions that are as prevalent in Tokyo as they are in Washington, D.C. At Ozuki Salon you have the choice of discussing your haircut, color, or treatment in Japanese, Mandarin Chinese or English. Most of the staff is bilingual and specialize in Asian hair. Whichever service you receive in the peaceful, relaxed ambiance of Ozuki's Georgetown salon, you are certain to come away feeling refreshed and with great looking hair.
Haircuts (including styling)
Women: $88
Men: $68

Styling
Shampoo & Blowdry: $54
Updo Styling: from $90

Color
One Process Color: from $85
Partial Highlights: from $115
Full Highlights: from $151
Balayage: from $185
Olaplex Treatment : $40
Perms
Permanent Wave: from $115
Japanese Straight Perm: from $450*
* Price quoted upon consultation

Kimono Dressing
Furisode (long sleeve): $200
Tomesode,Houmongi: $150
Tukesagi: $150
Komon: $120
Haorihakama: $100

Chemical prices do not include a Haircut or a Blow dry.
Japanese Treatments
Advanced Hydration
from $62 Advanced Hydration is a treatment for dry, weak or moderately damaged hair. The deep-conditioning treatment commits beyond the initial feel by leaving tresses silky smooth for well over a month. Advanced Hydration treatment leaves hair feeling instantly silky, smooth, shiny and strong.
Keratin Damage Repair
from $67 Noiraudepro Keratin Repair is a powerful revitalizing Keratin treatment formulated in Japan for damaged, dehydrated and lifeless hair. This restorative hair treatment will help hair to retain moisture, becoming more manageable and easier to style. Your hair will feel silky smooth adding shine and body.

Moisture Color Lock
from $62 Moisture Color Lock brings natural health to color treated hair, creating incredible shine and radiant long lasting color. Repair your hair from the inside out and notice immediate effects with Inphenom. A 5-step in-salon treatment done immediately after coloring helps to lock in your vibrant color.
Milbon Healthy Scalp
from $67 Beautiful hair begins at the roots. Healthy Scalp is a luxurious in-salon treatment that uses specialized massage techniques and is specifically formulated to cleanse, moisturize and nourish the scalp to combat aging and alleviate problems such as itchiness, redness and dandruff. Healthy Scalp creates the perfect environment for hair growth.Healthy scalp equals healthy hair.
Profile
The Ozuki hair salon in Georgetown, like some of the best addresses in Tokyo, is tucked away on a small side street but is definitely worth a detour from the city's busier thoroughfares. This gem of a hair salon, Washington, D.C.'s premiere Japanese salon, specializes in Asian hair but provides excellent haircuts, color and treatments for everyone that appreciates attention to detail and superb customer service. Ozuki brings to Washington the high standards of courtesy and "cutting edge" style that have made Tokyo Salons famous the world over.
Our Stylists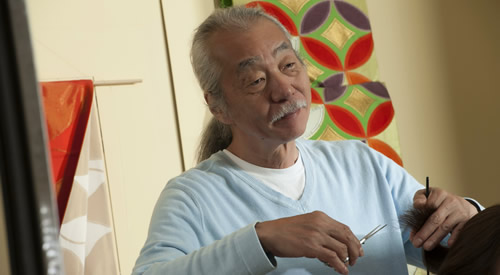 Iku Kawashita
– A master at precision cuts, Iku's haircuts grow out beautifully, earning rave reviews weeks after your appointment. He definitely understands the art of the curl. Beginning his career in Kyoto, Iku is now famous in DC for his "God-given" natural looking highlights and rich vibrant color.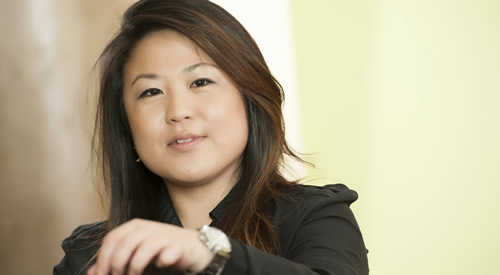 Keiko
– Keiko is an exceptionally gifted and soulful stylist who is devoted to making people love their hair. Her true talent is revealed when she is with her clients listening to their needs, understanding their style and then creating masterful, versatile cuts, curls and color that can be edgy, natural, or polished.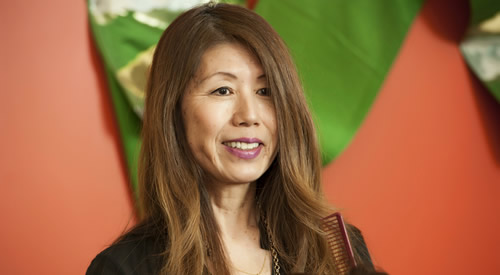 Shigemi Matsumoto
– In Shigemi's chair you will find a peaceful focused stylist with a touch of edge. Equally at ease with long flowing layers and sassy pixie cuts. She also has a fiercely loyal male clientele, who rely on Shigemi to get keep them looking sharp from office to street.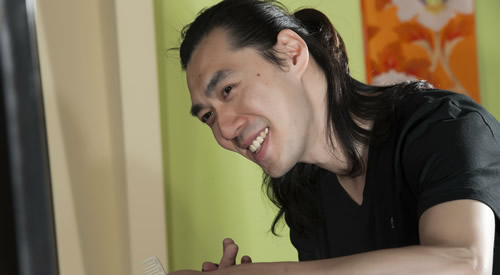 Tony Peng
– When it comes to styling hair Tony is a genuine artist. With extraordinary consideration, you will feel his complete dedication when he creates a masterpiece that is perfect for you and your lifestyle. A native of Taiwan, Tony is equally at ease discussing your hair in Mandarin Chinese or English.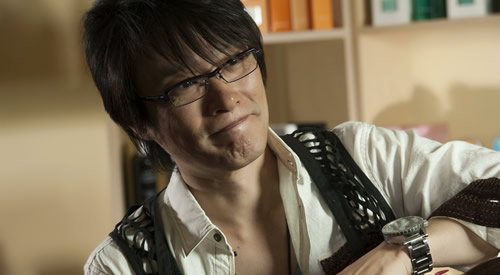 Shu Yamashita
– Shu is a world-class talent with a warm, calm, intuitive presence. His understanding of shape and design, keen attention to detail, and passion for his art, has him quickly becoming one of our most sought after stylists.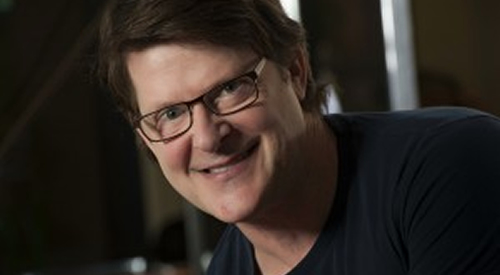 Steven Landry
– Steven is a creative and engaging stylist who delights every client before him. His devoted clients trust his steady hand and vision implicitly. He possesses an extraordinary, classic talent and is always in demand.
Products
Ozuki Salon prides itself on finding the very best specialty products for all hair types. Here are some of our favorites.
Spice Styling Series by Arimino.
Imported from Japan

Spice Water Shining Straight – Eliminate unruly frizz and improve luster and manageability. Smooth out stray curls and create shine to dull, dry hair. Simply the best leave in blow-dry cream we have ever tried. Our number 1 selling product.
Spice Wax – Three formulas for three looks. Soft Wax for flexible texture. Hard Wax for dramatic styles needing superior holding strength and Freeze Wax for extreme hold for extreme designs.
Spice Form Wax – Simplify styling for texture and piecing with form wax. Create light movement to long, wavy hair and natural-looking waves to short hair.
Spice Tube Gloss – Natural honey creates light, brilliant shine to damaged hair. Vitamin B6 locks in moisture with a strong glossy shield to protect hair.
Spice Mist Volume Up – Giving volume, protective proteins create a micro-fine shield to prevent heat, damage and facilitate moisture retention for soft silky hair.
Shower Curl Style – Light setting strength and natural shine create long lasting soft curls. Curl Style is best as a base when creating styles with a curling iron.
Inphenom
Imported from Japan

Inphenom luxury system helps your hair regain the power to hold in moisture keeping your color more radiant and vibrant. A truly remarkable hair care line.
Inphenom Shampoo – Nourish dry, damaged hair. This superior hydrating shampoo utilizes an essential amino acid to replenish moisture, leaving hair looking luminous and color more vibrant.
Inphenom Treatment – Nourish dry, damaged hair. This superior hydrating treatment replenishes moisture while sealing the cuticle, leaving hair looking luminous and color more vibrant.
Inphenom Mist – Moisturize dry, brittle hair. This lightweight mist instantly detangles for ease of styling while giving body and boosting shine. The lightest leave–in conditioner.
Clay Esthe EX
Imported from Japan

Clay Esthe Shampoo – A healthy scalp equals healthy hair! Natural clay and deep sea minerals deeply cleanse build-up on hair and scalp. Excellent for thinning hair, the clay shampoo unclogs oil and residues preventing new hair growth from deep within the follicle. Clarifies scalp problems such as dandruff.
Clay Esthe Pack Treatment – Natural clay removes dead skin and absorbs oil and residue from hair cuticles and scalp. Sea minerals stimulate new hair growth and conditions the hair to luxurious silky softness.
日本語
OZUKIサロンは、ワシントンD.C.の日系プライベートサロン。川下育春により、彼の故郷でもある山口県にある小月町から名前をもらい2002年にオープン。日本やアジア系のサロンで学んだ技術で、カット、カラー、トリートメントなどの施術を日本語、中国語、英語の中からお選び頂けます。OZUKIサロンでは、スタイルに関わらずその人に合ったカット、東京やワシントンの街のように、シーンに合ったスタイルをご提案できることを心がけております。
---
中文
Tony Peng來自於台灣,從事美髮行業已有超過十一年的經驗,Tony在一年前加入Ozuki團隊,他所創作的作品非常的細膩,所有他做完的髮型都非常容易整理,頭髮髮型都不太會走型,Ozuki Salon位於大華府區的喬治城,是一間由日本人所開創的髮型沙龍,髮型創作特別針對於亞洲人的髮質,如果您想要剪髮,請打電話給我們預約或在我們網頁預約,我們的網址是 202 342 7591
Location
Phone: (202) 342-7591
E-mail: info@ozukisalon.com
1025 Thomas Jefferson Street is a red brick office building at the bottom of Georgetown. Ozuki's main entrance is on the back of the building on 30th street, close to the corner of 30th street and K street. We are on the ground floor and we have glass doors.
There is metered parking on the surrounding streets, and parking garages on 30th Street and K Street.
Hours:
Wednesday and Thursday: 11am – 7:30pm
Friday: 10am – 6:30pm
Saturday: 9am – 5pm
Sunday: 11am – 5pm – The 2nd and the 4th Sunday of every month.
Closed Mondays and Tuesdays
Safety Measures
Covid update January 2023
Due to the close personal nature of our business Ozuki Salon will continue to require masks for everyone in the salon and we will continue to practice an occupancy limit. We will revisit this policy on a monthly basis.
find below a list of our safety measures:
You must be able to answer "No" to the following questions: Have you had a fever in the past 72 hours? Have you
experienced any cough, cold, or flu-like symptoms within the past 10 days? Have you been in contact with a person with confirmed or suspected positive COVID-19 in the last 14 days?
Everyone is required to wear masks.
Ozuki Staff members are required to sanitize their hands in between each client.
We are asking clients to wear their own masks.
We are asking clients to come alone without friends or family members.
We are asking clients to come with as few personal belongings as possible.
There will be no refreshment service.
There will be no magazines or hairstyling books.
"Shampoo at home" and "no blow-drys" are optional. The price will remain the same.
Stylist Wanted
Do you know a good stylist that would like to work at Ozuki Salon? Feel free to share the following hiring information. Make an introduction to us, and if we hire that stylist, you will be rewarded with free haircuts for a year! Don't forget to ask your candidate to mention your name.
Ozuki Salon, Washington, DC's Japanese hair salon specializing in Asian hair, is seeking a hair stylist with at least 5 years of experience and knowledge of Asian hair and style. We are seeking a stylist who has experience with Asian men's and women's haircuts, perms and color/highlights.
We are a busy salon, and we have the ability to build a fantastic clientele for a talented stylist. We want to find a friendly, enthusiastic stylist who has great energy.
Our clients expect a high level of customer service and technique. We have an excellent support staff.
We have a large international clientele, many of whom speak Japanese, Chinese, Vietnamese or Korean as their first language. We would love to find a hairstylist who is able to communicate in one of these languages.
We will consider a full-time or a part-time position. Hours can be flexible but must include weekends and early evenings. We offer a positive working environment competitive commission-based salary with a guarantee to start.
Please e-mail liz@ozukisalon.com.